Does the future of online advertising lie with acquiring More Data or building Better Algorithms? This debate seems to be all the rage. When I read these articles, I wonder do you really want to be rummaging through a ton of data when you can just profile your customers with social media.
What do I mean?
Well, with TidalWave, you can actually build Customer Profiles using their Facebook identity as the unique identifier.
What does this mean?
When your customers interact with your TidalWave Apps, whether it be on Facebook, your website or via mobile, their interactions are added to their TidalWave user profile, enabling you to gain better insight into your customers' engagement with your Apps.
Let's take a look. Here, we have a Guest List App running at Club 4Sixty/6. This Guest List application is up and running 24/7.  By looking at this profile, you can see this anonymous person is always attending. :)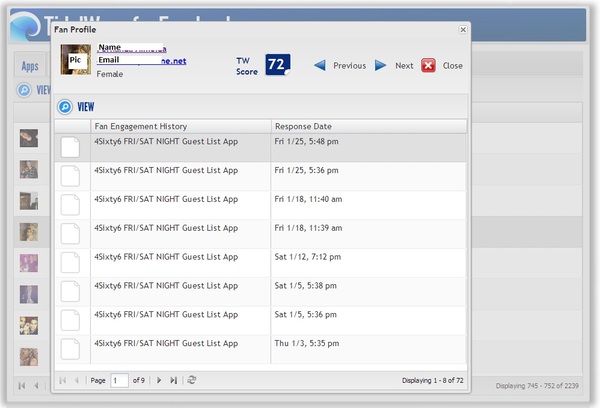 If you'd like to start doing Customer Profiling with TidalWave, check us out.